Looking for restful sleep?
These WildBerry Full Spectrum Gummies from Oscity are the perfect nighttime treat. Introducing Sleep Gummies - CBD+CBN Wildberry flavor. A delicious, relaxing way to fall asleep quickly and stay asleep through the night.
BRINGING WELLNESS THROUGH INNOVATION
Experience the most potent and premium Full Spectrum CBD products on the market today!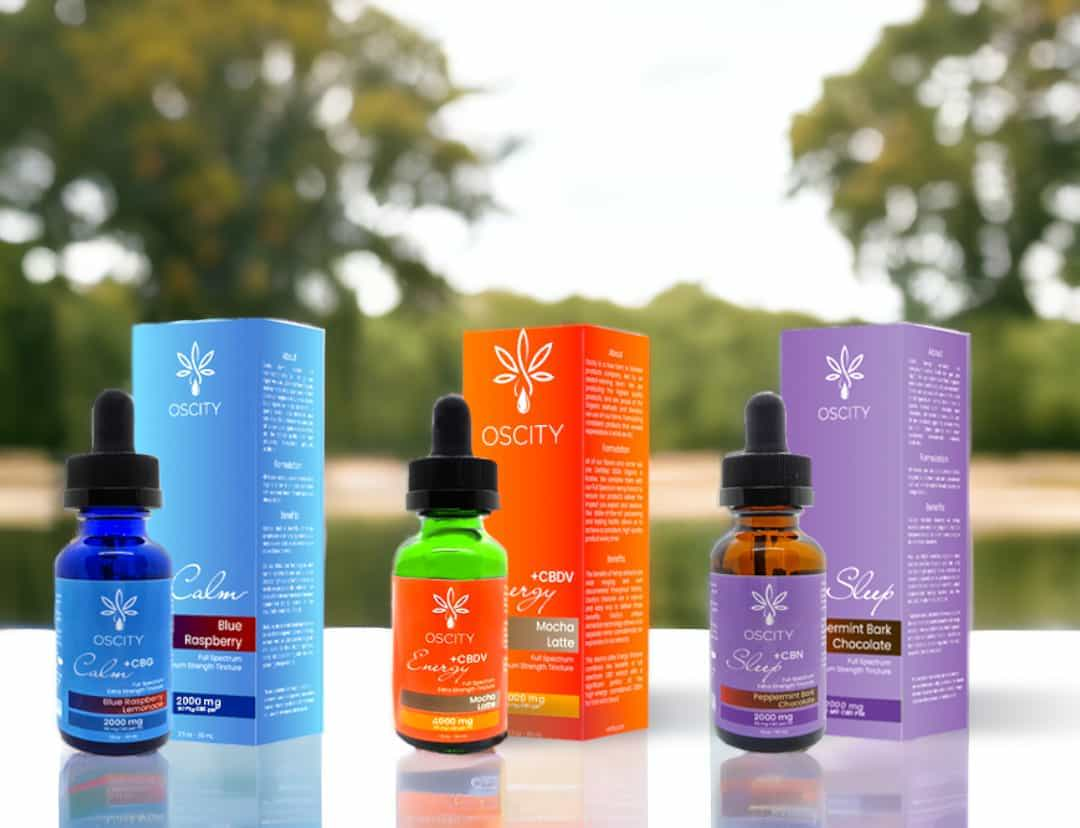 WHY CHOOSE OUR CBD PRODUCTS?
Our products feature a unique combination of Full Spectrum CBD, CBG, CBDV, and CBN, working synergistically to provide you with a holistic wellness experience. Each element in our formula is carefully selected to ensure maximum effectiveness.
Our team of experts has devoted time and expertise to create a formula that stands out in the world of CBD products. You can trust that you're using a product that's been developed with care. Oscity is here to support your wellness journey every step of the way.
Greetings from Oscity! As a beacon in the Health & Wellness realm, we stand tall with our vertically integrated operations, a testament to our commitment to providing unparalleled CBD products. Nestled in the heart of Alabama, our facility proudly reigns as the largest and finest in the United States. With a fusion of world-class professionalism, pristine cleanliness, and cutting-edge technology, we set the benchmark for excellence in the industry.
CBD is short for cannabidiol. It is a mighty phytocannabinoid found in hemp and known for supporting the body and mind in various ways. *
CBD specifically, comes from the flowers and leaves of the hemp plant. (Not to be confused with hemp seed oil that comes from hemp seeds and contains no cannabinoids.)
Why it works: The human body has a vast network of receptors, called the Endocannabinoid System (ECS), which helps us maintain overall wellness and keeps many of our physical processes moving in the right direction. CBD works with those receptors, helping to keep us in good health. * Learn more about the endocannabinoids system.
WILL OSCITY CBD PRODUCTS CAUSE ME TO FAIL A DRUG TEST?
Much like the consumption of poppy seeds may lead to a positive drug test for opioids, the consumption of certain hemp products may lead to a positive drug test for tetrahydrocannabinol (THC). THC is inherently present in trace amounts in hemp plants. The legal limit of THC in hemp is no more than 0.3%.
Furthermore, the underlying science behind the conversion of certain cannabinoids, for example cannabidiol (CBD), when consumed, to other related cannabinoids, like THC, is not yet fully understood. Although the risk is low, individual biochemistry, the possibility of conversion of cannabinoids, and the possibility of trace, but legal, amounts of THC inherent in hemp products, we strongly suggest consulting your healthcare provider before consuming any hemp products if you are subject to drug testing.
HOW SHOULD I STORE MY OSCITY PRODUCTS?
Oscity products do not need to be refrigerated, but if you prefer to take it when chilled, you can store it in the fridge without it impacting anything. We recommend storing your item where the bottle isn't exposed to constant light and/or heat. For further questions, please contact our Customer Care team at info@oscity.com or call us at 251.234.3280.
WHAT IS THE ENDOCANNABINOID SYSTEM?
The Endocannabinoid System (ECS) is a collection of cell receptors within a mammal's body. Scientists discovered this system in the 1990s.

Phytocannabinoids work with the mammalian Endocannabinoid System (ECS), which is a vast receptor system that helps support homeostasis and overall good health.* This receptor system exists throughout the entire body, including the immune system, the central nervous system, and within many organs. The ECS accepts our body's self-produced endocannabinoids as well as the phytocannabinoids found in hemp.

The ECS is designed to support cells and healthy immune system function, in reaction to fluctuations in our external environment. * A human's ECS affects many regions of the body, including functions of the immune system, the central nervous system (including the brain), organs, connective tissue, and glands.

The ECS supports various biological tasks, including energy & balance, immune function, memory, metabolism, sleep, and the function of the autonomic nervous system.*

Oscity products are full-spectrum extracts that include a range of beneficial compounds found in hemp, including phytocannabinoids and other phytocompounds (such as terpenes and flavonoids) that work to support your body's endocannabinoid system.

Supplementing with cannabinoids from plants (phytocannabinoids) can support our body's endocannabinoids, and the ECS's major receptors, CB1 and CB2. This helps to maintain proper balance.*
REAL REVIEWS FROM REAL CUSTOMERS!


Osicty has the best products, best customer service, and best deals delivered right to your front door. Thx Oscity!

The fahreinheit gel arrived promptly and in good condition. Works great with my muscle pain:) Thanks Oscity! Great product!

Oscity has the best priced gummies and added bonus discounts during the year to make their products even more affordable!

This company is amazing! They are responsive, quick to ship and we love their products. Very impressive.

Been using it for six months. I can't live without it. I have been having better nights sleep thanks to sleep tincture and it taste great!

Amazing tasting CBD gummies I have ever had! They arrived promptly in a few days after I ordered them. My joints are appreciative.