Our bodies are designed with hemp in mind.
By combining the therapeutic benefits of Full Spectrum CBD and boosting the CBDV, CBN and CBG, our Energy, Calm and Sleep products offer a perfect way to balance your mind and body. The benefits of hemp extracts are widely studied and understood.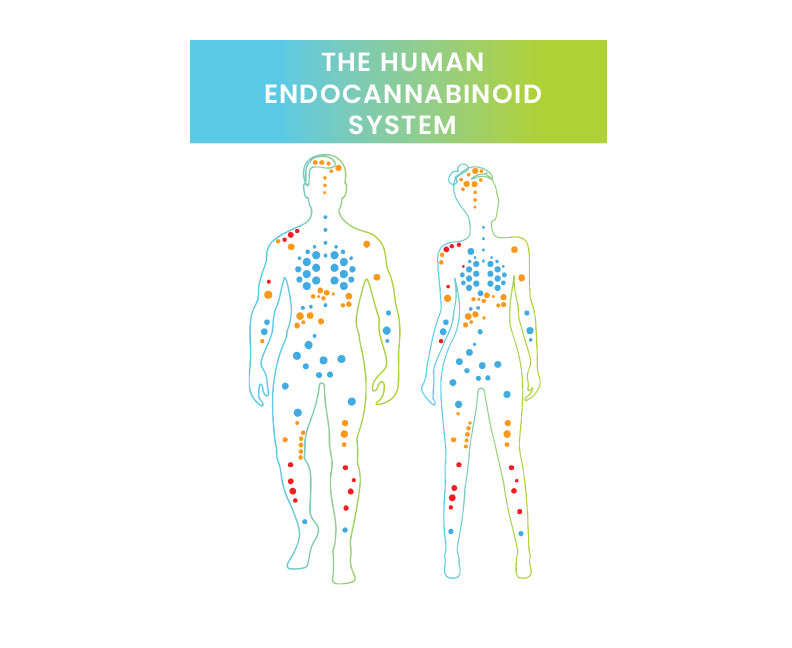 The Real Science
In 1964, researchers in Israel discovered the therapeutically active substances in cannabis that have come to be called cannabinoids and isolated the most popular and possibly effective cannabinoid, THC (tetrahydrocannabinol). More than 20 years later, in 1988, researchers identified the human body's endocannabinoid system.
Endocannabinoids are the special molecules naturally produced in the human body that are closely related to proper functioning of the immune system and nervous system and that are mimicked by the cannabinoids found in the cannabis plant.
 Cannabinoids contained in cannabis, referred to as phytocannabinoids, simply imitate endocannabinoids.  Cannabinoids fit perfectly into specialized receptors found throughout the nervous and immune systems, serving to enhance, or improve upon, the body's own ability to maintain homeostasis (balance) and health.
Endocannabinoids, also called endogenous cannabinoids, are molecules made by your body. They're similar to cannabinoids, but they're produced by your body.
Experts have identified two key endocannabinoids so far:
- anandamide (AEA)2
- arachidonoylglyerol (2-AG)
These help keep internal functions running smoothly. Your body produces them as needed, making it difficult to know what typical levels are for each.
Certain pathologies are associated with too low or too high (compensatory) AEA and 2-AG levels:
Irritable bowel syndrome (IBS): low gastric AEAF
Ibromyalgia: low cerebrospinal fluid AEA
Migraine: low serum AEA and 2-AG
Multiple sclerosis: low cerebrospinal AEA and 2-AG
Post-traumatic stress syndrome: low serum 2-AG and AEA
Huntingdon's disease: low numbers of CB1 receptors
The Role of Receptors
Research since the discovery of the endocannabinoid system has led to the identification of specialized receptors in the body. Knowledge of these receptors, called CB1 and CB2, has greatly enhanced the overall knowledge of how cannabinoids synergistically interact with other cannabinoids and endocannabinoids to produce sometimes profound medical effects. An understanding of these receptors also allows for the production of synthetic cannabinoids and specialized extracts that best take advantage of the function of these receptors.
CB1 receptors are located throughout the brain and central nervous system, as well as the kidneys, liver, lungs, digestive tract, and even the eyes. Revealingly, these receptors outnumber those for opiates by a wide margin (possibly as high as 10 to 1). The placement of CB1 receptors is also why overdoses on cannabis are impossible – because these receptors are not present in the basal regions of the brain that are responsible for vital functions, such as heart and respiratory function, overdoses due solely to cannabis use simply do not occur.
These receptors are found throughout your body. Endocannabinoids bind to them in order to signal that the ECS needs to take action.
There are two main endocannabinoid receptors:
CB1 receptors, which are mostly found in the central nervous system CB2 receptors, which are mostly found in your peripheral nervous system, especially immune cells.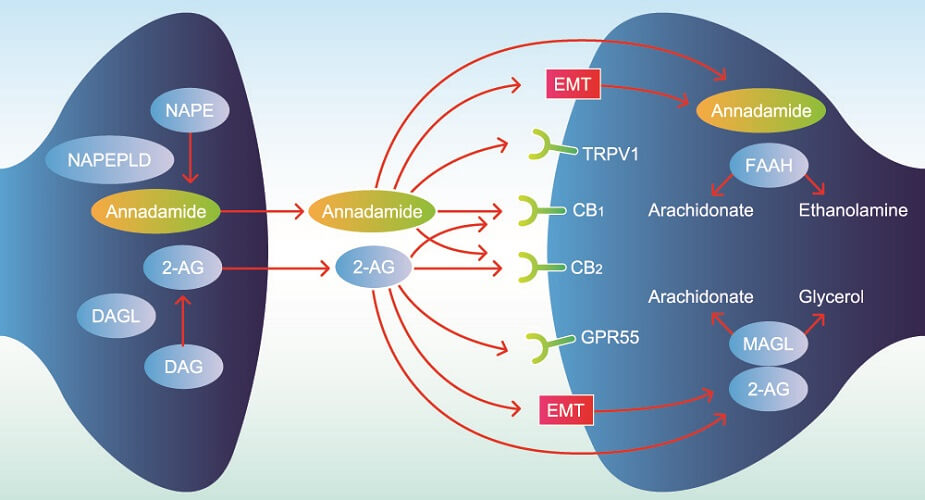 Endocannabinoids can bind to either receptor. The effects that result depend on where the receptor is located and which endocannabinoid it binds to.
For example, endocannabinoids might target CB1 receptors in a spinal nerve to relieve pain. Others might bind to a CB2 receptor in your immune cells to signal that your body's experiencing inflammation, a common sign of autoimmune disorders.